About Caduceus Database
Welcome to Caduceus Database! This is a Wikia based on the Trauma Center series of video games by ATLUS, including all five games currently released in the series. This database lets you in on all info of the Trauma Center series, characters, and more!

This wiki is also now part of the Developmental Alliance for Wikis on Nintendo.
Games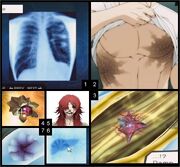 The Rosalia Virus is the "main villain" in the game Trauma Team.
During the course of the game, odd symptoms crop up in patients in the initial chapters, with symptoms such as severe hemorrhaging, vomiting blood, convulsions, cardiac arrest, unexplained soft tumor formation, and a unique black bruise that forms over affected areas.(more)
Contents
Wanted:
Recently expanded pages:
Ad blocker interference detected!
Wikia is a free-to-use site that makes money from advertising. We have a modified experience for viewers using ad blockers

Wikia is not accessible if you've made further modifications. Remove the custom ad blocker rule(s) and the page will load as expected.